So, I'm maybe, sorta interested in enrolling….AKA Frequently Asked Questions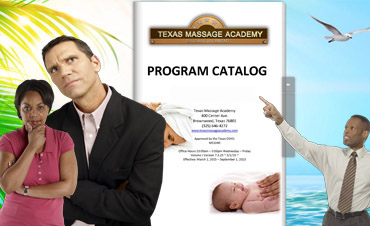 So, you are interested in possibly becoming a student at Texas Massage Academy. That is great news! You have come to the right spot to get some answers to your questions. First, let me give you our current catalog. (CLICK HERE)
When is the next class?
Our Next class starts on January 21, 2019. Currently, classes are only in the evenings. You will attend class on Monday, Tuesday, and Thursday from 6:00 pm to 10:00 pm. We are working on adding day classes.
How long does class take?
Because classes are only in the evenings, it will take approximately a year and 3 to 4 months depending upon holidays.
Do I have to be here every night?
Of course, you don't have to be here every night, but the state requires that you attend all 500 or 570 hours of coursework (depending upon the program you choose). So, if you miss a day or part of a day, you are required to make it up. We offer makeup days and hours, but we charge $12.25 per hour so it can get pricey to miss. Not only are you having to pay twice for coursework, you are missing out on valuable class time, that just isn't the same as being here when taught the first time.
We do have some scheduled days off, but for the most part, we want you to be able to get done as fast as possible, so we only take off for New Years Day, Easter, Thanksgiving, and Christmas. But we only take those days off if they fall on a class day.
There are a few makeup days built into each semester so, if you don't miss, you will get a little break on those days.
Speaking of Semesters, how is class broken down?
Each semester takes approximately 5.5 months
Semester I – You will spend your days between the class and lab. During this time you will learn everything you need to know to perform the different types of massages as well as spa services.
Semester II – This semester is your internship. Depending upon which program you choose, you will either have 50 or 120 hours of actual hands-on time with clients performing services. You will have a little more freedom during this semester to pick your schedule. We offer shift opportunities between 6 and 10 pm during the week and on some Saturdays. If you complete all of your internship hours before the semester ends, you will have a little break before returning for the final semester. During your internship, you will be building your hand skills which will help you in your third semester.
Can I perform those massages somewhere else?
Unfortunately, no, all services must be performed here on site. Also, please note that the state does not allow students to receive any type of compensation, this includes tips, gratuities, monetary donations, etc.
Semester III – Your final semester. This semester goes back to the class and lab and resumes the 6:00 pm to 10:00 pm Monday, Tueday, and Thursday Schedule. This time is spent learning some advanced techniques such as an in-dept look at trigger point, as well as getting you prepared for the MBLEx and the real world.
You mentioned something about different hours or different programs?
We offer 2 different programs. You won't be paying for both programs, it is either the core program or the advanced core program.
The core program is the state minimum. This program is 450 hours of class and lab and 50 hours of hands-on work with clients during your internship. The tuition is $4864.00 and must be paid upfront.
We felt that the 50 hours of hands on work was not enough when it comes to real world standards, so we added 70 hours on to the internship to make the advanced core program. You will still have the same 450 hours of class and lab, but will be preforming 120 hours of actual hands-on time with clients. Personally it took me around 100 hours during my internship to really begin feeling the knots. Because we wanted to encourage all of our students to take this program, so that they left school with better hand skills, we cut the cost of the program in half. This program is only $2457.00. With it we offer a payment plan, where you put a $200.00 deposit down and then pay $29.00 per week automatic withdrawal from a debit or credit card. There is no interest with this program.
So, if I do the shorter program will I get done sooner?
The way our program is set up, you won't finish any sooner by enrolling in the core program. If you do choose the core program, you will finish your internship sooner and have a longer break between semester II and III.
I'm still a little confused by the different programs.
Check out this post that breaks down the differences between the programs by clicking here.
Are there any other costs?
You will need to purchase books and supplies. Your first semester books and supplies that are required cost $460.75 if you purchase them from us. We will provide you with a list so you can find them on your own if you would like. You will also need scrubs, they are $20.00+ depending on the brand you get, twin sheet sets, you can find cheep ones at Walmart or Big Lots for $5.00 to $10.00 a set, and then pens, pencils, highlighters, etc. The books for semester III cost approximately $150.00.
Now what?
I would love to show you around the school and answer any more questions that you might have. You can give us a call at 325.646.4272 or click here and book your tour or enrollment online.
Want more info? Sign up here
I hope that I answered some of the frequently asked questions out there that might help you. Did I miss a big question that you have about Texas Massage Academy? Ask below in the comments and I will get it answered for you!!
Tagged:
massage school
massage therapy
massage therapy school
questions about massage school