The Benefits of Pursuing a Career in Massage Therapy
As an Amazon Associate, I earn from qualifying purchases.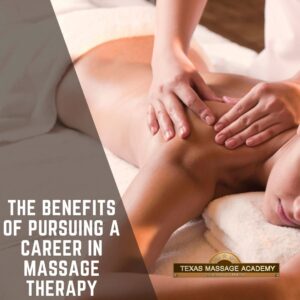 If you're considering a career in massage therapy, you may wonder about the benefits of being a massage therapist. Some of these benefits include helping others and having a work-life balance. Keep reading to find out some of the benefits of pursuing a career in massage therapy.
Massage Therapy Career Benefits: Top 10 Reasons to Choose This Rewarding Path(Opens in a new browser tab)
Help Others While Enjoying Work-Life Balance
Massage therapy can provide numerous benefits, including stress relief, pain management, improved circulation, and enhanced overall well-being. As a massage therapist, you can make a real difference in your client's lives. Plus, you can enjoy a healthy work-life balance with flexible work schedules.
Financial Stability and Career Advancement Opportunities
With the demand for massage therapists on the rise, this career offers financial stability and potential for growth. According to the Bureau of Labor Statistics, the median annual salary for massage therapists in 2020 was $43,620, with top earners bringing in over $80,000 per year. As you gain experience and build your reputation as a skilled massage therapist, numerous career advancement opportunities exist.
Massage Therapy as a Growing Career Field(Opens in a new browser tab)
Personal Satisfaction and Fulfillment
Massage therapy is a career that can bring personal satisfaction and fulfillment. You'll have the opportunity to build meaningful relationships with your clients. You will see the positive impact of your work firsthand and enjoy the sense of pride that comes with helping others. Whether you're just starting out or looking to advance your career, pursuing a career in massage therapy can be a fulfilling and rewarding choice.
How Our Flexible Hybrid Program Helped a Working Mom Pursue Her Dream of Becoming a Massage Therapist(Opens in a new browser tab)
Conclusion:
In conclusion, pursuing a career in massage therapy offers numerous benefits, including the ability to help others, flexible work schedules, financial stability, and personal satisfaction. With a comprehensive education program like the one offered at Texas Massage Academy, you can gain the necessary skills and knowledge to become a skilled and successful massage therapist. If you are ready to start your career as a massage therapist, call Texas Massage Academy at 325.646.4272 or visit www.texasmassageacademy.com.
Tagged:
career
massage therapy
work-life balance