Massage Therapy Career Benefits: Top 10 Reasons to Choose This Rewarding Path
As an Amazon Associate, I earn from qualifyingn purchases.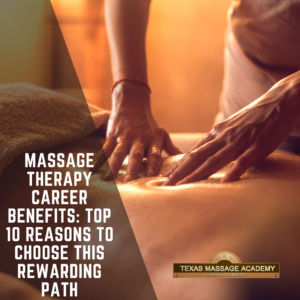 Are you considering a career in massage therapy? If you have a passion for helping others, an interest in the human body, and a desire to work in a growing industry, massage therapy may be the perfect path for you. In this blog post, we will explore the top 10 reasons why a career in massage therapy is a rewarding and fulfilling choice.
Opportunity for Personal Growth and Development
Massage therapy is a profession that requires ongoing learning and development. As a massage therapist, you can take continuing education courses, attend workshops, and learn new techniques to improve your skills and knowledge. This constant growth and development will not only benefit your clients but will also benefit you personally.
Flexible Work Schedule
One of the most significant benefits of a massage therapy career is its flexibility. You can choose to work part-time or full-time and set your own hours. This flexibility allows you to balance work with other important aspects of your life, such as family, hobbies, and personal pursuits.
Ability to Help Others
Massage therapy is a profession that focuses on helping others. As a massage therapist, you will have the opportunity to improve your client's physical, mental, and emotional well-being. You can relieve pain, reduce stress and anxiety, and promote relaxation and healing.
How to Build a Successful Career as a Massage Therapist(Opens in a new browser tab)
High Demand for Massage Therapists
According to the Bureau of Labor Statistics, employment of massage therapists is projected to grow 21 percent from 2019 to 2029, much faster than the average for all occupations. This high demand for massage therapists means plenty of job opportunities are available.
Variety of Work Settings
Massage therapists work in various settings, including spas, health clubs, hospitals, chiropractic offices, and even on cruise ships. This variety of work settings allows you to find a job that perfectly fits you and your career goals.
Competitive Salary and Earning Potential
The salary and earning potential for massage therapists vary based on factors such as location, experience, and type of employer. However, massage therapy can be a lucrative career, with some massage therapists earning six figures.
How to earn over $40,000 per year only working part time!(Opens in a new browser tab)
Opportunity for Entrepreneurship
Many massage therapists open their own businesses, allowing them to set their own rates, hours, and services offered. This entrepreneurial opportunity allows massage therapists to build their brand and create a successful business aligning with their values and goals.
Positive Work Environment
Massage therapy is a profession that promotes relaxation, healing, and well-being, creating a positive work environment. As a massage therapist, you will be surrounded by clients who appreciate and value your work. Thus creating a fulfilling and rewarding career.
Physical Benefits of the Job
While massage therapy is focused on helping others, it also offers physical benefits for the massage therapist. The job's physical demands, such as standing, walking, and using your hands and arms, can provide a workout for your body, leading to improved strength and flexibility.
Emotional Benefits of the Job
Massage therapy can be emotionally rewarding for the massage therapist. The ability to help others and improve their well-being can create a sense of purpose and fulfillment, leading to improved mental and emotional health.
The Top 5 Reasons you should become a Massage Therapy Student!!!(Opens in a new browser tab)
Conclusion
A career in massage therapy offers a variety of benefits, including personal growth and development, flexible work schedules, the ability to help others, high demand, a variety of work settings, competitive salary and earning potential, entrepreneurial opportunities, positive work environment, physical benefits, and emotional benefits. If you are passionate about helping others and interested in the human body, a career in massage therapy may be the perfect path for you. If you want to become a massage therapist, visit www.texasmassageacademy.com for more info.
Tagged:
massage therapy
massage therapy education
Texas Massage Academy