Can't you just learn massage from YouTube?
As an Amazon Associate, I earn from qualifyingn purchases.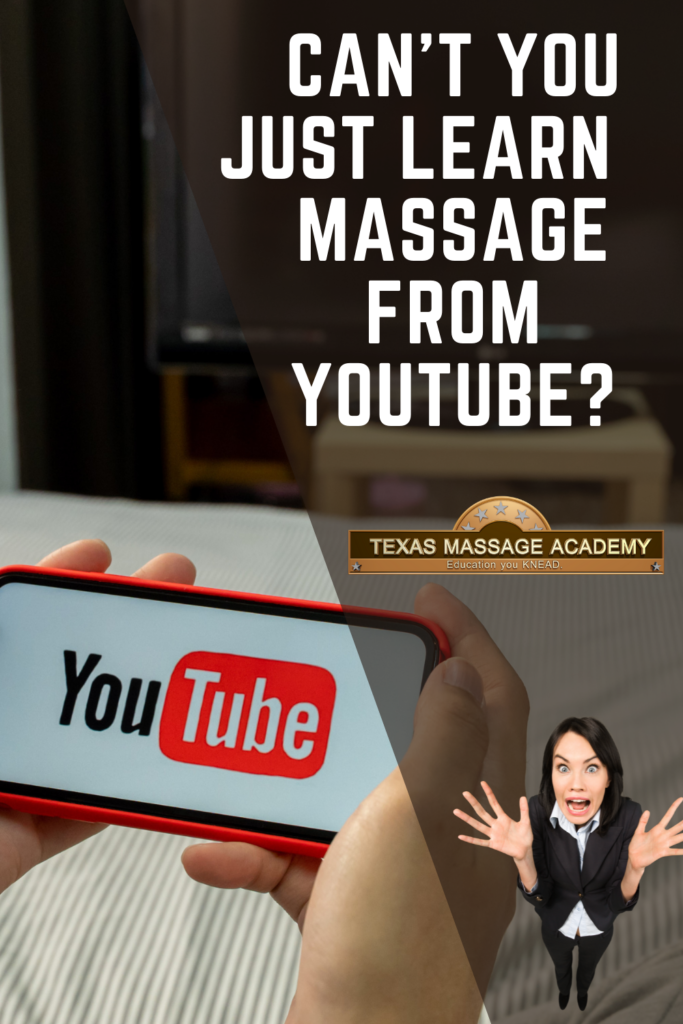 Sure! But think of it this way, would you rather watch a video of Gordan Ramsey making Beef Wellington and try to recreate it on your own without any help or go to school to become a world-renowned chef like Gordan Ramsey and create your own signature dish?
Ok, Kathleen….how does this relate to massage school? Massage school is the same thing, can you watch a video on youtube and figure out how to give a massage? Sure, but do you know what you are doing and why you are doing it? Is it a good massage? Probably not! (sorry, not sorry) Did I think I gave my hubby great back massages before we went to massage school, of course, but they were crap. Did I learn from YouTube? Lol, they weren't even a year old by the time Brandon and I started massage school. I had books on massage. ?? I do learn from reading, but massaging is not a skill that can be learned from reading or watching someone on a video, it is a hands-on skill that needs to be done in a classroom. Lecture courses can absolutely be done online (I have some news at the end of this about that), but hand skills need to be with an instructor. Let's talk about why.
Watching is never the same
Can you learn stuff from videos? Sure. But the basics just can't be taught in a video. When you are in a class setting, you can see the instructor's demo from different angles. You can move around the room, or get up close. These aren't things that happen from a video. With video, you might get one or if you are lucky 2 views of a massage technique.
When you are in class, you can ask questions that the instructor might not have included with their instruction. When watching a video on youtube, who knows how long it will take to get a question answered.
The instructor is there to help you
When you are in class, your instructor is there to help you and ensure that you are going to be an amazing massage therapist. They can help fix your stance and body mechanics, this is something you absolutely can't get from watching a video on massage. If you are massaging with poor body mechanics, you are setting yourself up to become injured. The instructor is there to help you tweak your position to ensure that you don't end up becoming injured down the road.
Not only is the instructor there to demo the massage technique for you and to help you with your stance and body mechanics, but they are also there to help you with the massages. Many times we will mirror with the students to help them with their speed and depth.
Class partners are the best
First, our students become family with their classmates. But the most important part is having a partner that knows where you are in the program, what you know, and what it should feel like. We tell our students that they should always give constructive criticism to their partners to help them. This isn't about making you feel bad about your massage, but helping you to be able to give a massage that will make you money in the future. If you are just working with a friend or family member, they don't understand where you are in your learning or what you are doing should feel like.
The Top 5 Reasons you should become a Massage Therapy Student!!!(Opens in a new browser tab)
YouTube videos miss the best part
What is the best part about massage school? It is getting the massages!!! Our students trade out massages in the lab so you learn on each other, but this means you get massages!! Truly that is the best part of massage school. Each of the services that you learn, you also get to experience because without getting to experience it as well, you can't explain how it feels to a client. My favorite service to receive when I was in school was the mud mask. The school Brandon and I attended had a Vichy shower, trying to explain the service is nothing compared to experiencing it. One day we hope to have a Vichy shower for the school here.
Exciting News
So I mentioned some exciting news coming. We are working on taking the classroom portion of our massage classes online. The classes will be self-paced and you can learn when you have the time. Once you finish the classroom portion for the semester, you will eligible to start the hands-on portion onsite. If you want more information on our online program, enter your info here and we keep you updated on the progress of our online class.
Tagged:
become a massage therapist
online class