Essential Tools for Massage Students: Building Your Toolkit
As an Amazon Associate, I earn from qualifying purchases.
Welcome, aspiring massage therapists! Whether you're just starting your journey in massage education or looking to expand your toolkit, having the right tools is essential for your success. In this blog post, we'll guide you through the must-have tools and equipment that will help you build your massage therapy toolkit. From the basics to specialized accessories, we've got you covered. Let's dive in!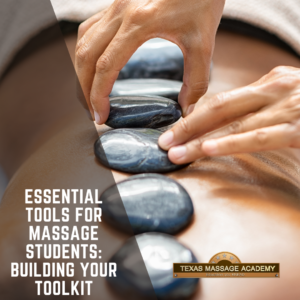 1. Massage Table
A sturdy and comfortable massage table is the foundation of your practice. Look for one that is adjustable, has a supportive cushioning system, and is easy to clean. Consider the width, length, and weight capacity to accommodate a variety of clients. Here is the massage table that we use at school Be sure you select the correct height and include your headrest!
Must-Have Massage Therapy Student Tools: 10 Essentials to Succeed(Opens in a new browser tab)
2. Massage Oils and Lotions
Quality massage oils and lotions are crucial for a smooth and enjoyable massage experience. Choose products that are hypoallergenic, non-greasy, and offer a good glide. Popular options include jojoba oil, almond oil, and unscented lotions. Here is the one we use at school!
3. Bolsters and Pillows
Bolsters and pillows provide support and enhance client comfort during massages. They help position clients correctly, relieve pressure points, and maintain proper alignment. Look for versatile shapes and sizes to cater to different body areas and client preferences. Check out these high-quality bolsters and pillows on Amazon.
4. Hot Stones and Warmers
Hot stones can add a therapeutic touch to your massages. Investing in a set of hot stones and a stone warmer will allow you to offer hot stone massage therapy. Ensure the stones are smooth, heated evenly, and safely used with appropriate temperature control. Discover a selection of hot stones and warmers on Amazon.
5. Massage Tools and Accessories
In addition to your hands, incorporating massage tools can enhance your techniques. Consider tools like foam rollers, massage balls, trigger point tools, and handheld massagers. These aids can help with self-care, target specific areas, and assist in deep tissue work. Explore a variety of massage tools and accessories on Amazon.
6. Towels and Linens
Hygiene and cleanliness are paramount in massage therapy. Stock up on soft, absorbent towels and linens to drape and cover clients during sessions. Aim for a sufficient supply to ensure a fresh set for each client and maintain a professional atmosphere. Find a range of towels and linens suitable for massage therapy on Amazon
7. Essential Oils and Aromatherapy
If you're interested in aromatherapy, essential oils can be a delightful addition to your practice. Choose high-quality oils and explore various scents that promote relaxation and wellness. Remember to consider client preferences and allergies when incorporating aromatherapy. Check out a selection of essential oils for massage therapy on Amazon.
8. Cleaning and Sanitizing Supplies
Maintaining a clean and hygienic environment is crucial for client safety. Have a stock of disinfectants, sanitizing wipes, and cleaning sprays to keep your massage table, tools, and surfaces germ-free. Regularly sanitize your equipment and space to create a welcoming and safe atmosphere. Find cleaning and sanitizing supplies on Amazon.
Congratulations on taking the first step toward building your massage therapy toolkit! By investing in the essential tools and equipment mentioned above, you'll be well-prepared to embark on your massage education journey. Remember, the right tools not only enhance your skills but also contribute to client satisfaction and your professional image. So, gather your supplies, practice your techniques, and get ready to make a positive impact through the power of massage therapy!
Tagged:
massage therapy
massage tools