Preparing for the MBLEx Exam: A Guide to Quality Resources
As an Amazon Associate, I earn from qualifyingn purchases.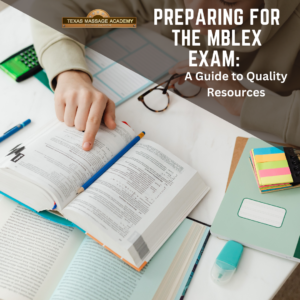 Preparing for the MBLEx Exam
Graduating from massage school can be an exciting time, but it also comes with the pressure of passing the MBLEx exam. The MBLEx is widely used for licensing massage therapists, and passing it is essential for starting your career. Fortunately, there are several resources available to help you succeed.
David Merlino's MBLEx Test Prep Book
The most comprehensive resource available is David Merlino's MBLEx Test Prep book. It covers all the test content areas, such as anatomy and physiology, kinesiology, ethics and more, including practice questions and in-depth explanations of each subject area. To complement this preparation tool, Merlino also offers a podcast and app. The podcast covers various topics related to the MBLEx while the app includes practice questions and quizzes so that you can assess your knowledge gaps.
In addition to these materials created by David Merlino, there are other helpful tools out there like study groups or forums which provide an opportunity to interact with other candidates who are also preparing for the exam. The support from these groups can be hugely beneficial when studying for such an important test as it provides extra insight into any areas which may be causing difficulty and encourages positive reinforcement through shared experiences.
Additional Anatomy Resources(Opens in a new browser tab)
Free AMTA MBLEx Study Guide App
Another helpful resource is the Free AMTA MBLEx Study Guide App which provides a wealth of information including a study guide, practice questions and a glossary of terms. You can use this tool alongside your studies to make sure you are well-prepared for the exam.
You could also look into taking an online course specifically designed to help prepare you for the exam – these tend to cover content areas such as anatomy & physiology and therapeutic modalities in greater detail than what could be covered within a study group or forum setting – giving you that extra edge when it comes time to sit your exams!
Texas Massage Academy's MBLEx Subscription
If you're looking for something more structured when studying for the exam, consider signing up for Texas Massage Academy's subscription offer, which gives access to videos in an easy-to-study format and lots of practice tests. For only $1.99 per month, you'll have access to material that could be key resources in helping you pass on the first try! Click here to access
Finally, ensure that you don't underestimate how important rest days are during your preparation process – studying hard without sufficient breaks will not only impact performance on test day but also lead to burnout over time if not managed properly! So take time during your studies for relaxation or exercise, as this can help immensely with memory retention by allowing both mind and body time away from intense revision sessions.
Starting a Spa Business: Must-Read Books for Success(Opens in a new browser tab)
In conclusion, many resources will help you prepare for the MBLEx exam so that you can confidently start your massage therapy career. Taking time out to study quality materials and allow yourself some rest days will pay off in no time!
Tagged:
massage therapy
MBLEx
Study tips