Last Minute Christmas Ideas for Massage Students
As an Amazon Associate, I earn from qualifyingn purchases.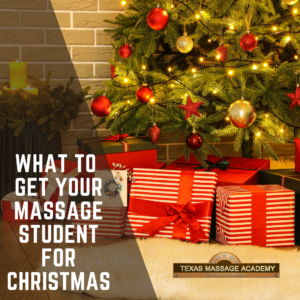 Christmas is almost here, and I don't know if you are still getting Christmas gifts like I am. But I've put together some Christmas ideas for you to get for your Massage Student!
Massage Holster
Every massage therapist needs a massage holster! When you purchase one, I recommend one that will hold 2 bottles, this way, they have one for lotion and one for hand sanitizer. I can't find the brand we use in class on Amazon, but this one has excellent reviews!! Plus, it will be here before Christmas!!!
PS Don't forget bottles. They need to be 8oz, tall, and skinny like these.
Self Massage Tools
This is one of my favorite tools. I have a few in stock at the school if you need to get them before Christmas. It is a great way to get to those knots in your back. Plus, it comes with a little book on how to use it.
Lotion!!!
How can I forget lotion?!?!? At school, we use Bon Vital Swedish Massage Lotion; your student would appreciate having the same type of lotion to practice with at home. PS, don't forget to get a pump with it.
Gift Basket Ideas That Won't Break The Bank(Opens in a new browser tab)
Odds and Ends
As massage therapists, we are weird; we like the little things we don't have to purchase for ourselves, like twin sheets for the massage tables. You can buy special massage sheets, but they aren't needed; just a regular twin size is perfect.
Along these lines, essential oils are amazing!! Personally, I just purchase them because I like the smells. My favorite scents are eucalyptus and peppermint. Some great starter kits like this one come with a diffuser.
Massage Table
If you want to buy your massage student a massage table, please call me at the school so that I can help you find one that is the correct height. We do use a short table, and they are a little harder to find. Right now, the company we buy our tables from is taking about 4 to 6 weeks for production and shipping; they are all custom-made.
The Top 5 Reasons you should become a Massage Therapy Student!!!(Opens in a new browser tab)
I hope I have given you a few Christmas ideas of what you can get for your massage student. If you are a massage therapist or a massage student and I didn't list something you have your eye on drop a comment below.
Tagged:
massage gifts
massage student gift
massage therapy
Texas Massage Academy