Valentine's Day Gifts: Creative and Relaxing Gift Ideas
As an Amazon Associate, I earn from qualifyingn purchases.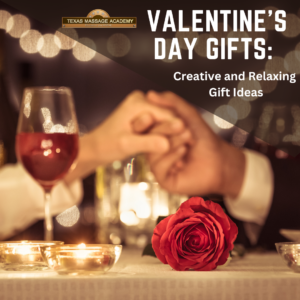 Valentine's Day is the perfect opportunity to show that special someone how much you care. If you want to give a thoughtful and relaxing gift, consider massage therapy or another of the many options outlined in this article. From at-home spa kits to cozy blankets, we'll explore some of the best Valentine's Day gifts that promote relaxation and wellness.
Massage Therapy
Treat your loved one to a luxurious couples massage at a local spa. Massage therapy can help reduce stress levels and promote feelings of deep relaxation. Plus, it's an experience that you can both enjoy together!
At-Home Spa Kit
Create a relaxing spa atmosphere in the comfort of your home with an at-home spa kit. You can find many great options online or from retail stores near you. Here is an at-home spa kit that I love. You can buy a premade one or even put together your own, including items that your Valentine will love. I recommend including a bath bomb, a bubble bath, a candle, a wine glass, and a great bottle of wine (PS, you can grab some from 10 Mile, right across the street from Texas Massage Academy at our Brownwood campus). A nice new fuzzy robe would be amazing too!
Gift Basket Ideas That Won't Break The Bank(Opens in a new browser tab)
Relaxing Music
Music is known for its ability to calm and soothe the mind and body. Why not give the gift of relaxation through music? Purchase a meditation or relaxation album on your favorite digital music platform for your loved one to enjoy at home or in their car. You can even get music on amazon and stream it through your Alexa. Click here to get Amazon Music
Essential Oils:
Essential oils are popular for their calming effects when used in aromatherapy. Give your loved one a set of essential oils as an extra special Valentine's Day gift they can use over and over again! You can purchase essential oils online or from any store offering home fragrances.
Here's a simple recipe for a relaxing essential oil blend:
Ingredients:
20 drops of lavender essential oil
15 drops of bergamot essential oil
10 drops of frankincense essential oil
5 drops of ylang ylang essential oil
30ml of carrier oil (such as jojoba oil or sweet almond oil)
Instructions to use as a massage oil:
In a glass bottle, add the essential oils.
Pour in the carrier oil to fill the bottle.
Shake the bottle well to mix the oils.
For your diffuser: add 4 drops of lavender, 3 drops of bergamot, 2 drops of frankincense, and 1 drop of ylang-ylang to the diffuser.
This blend is ideal for promoting relaxation and reducing stress and anxiety. The soothing scent of lavender, combined with the calming properties of bergamot and frankincense, creates a peaceful and grounding aroma. The addition of ylang-ylang adds a touch of sweetness and enhances the overall relaxing effect of the blend.
Cozy Blanket:
Nothing says "I love you" like snuggling up for quality time on the couch with your significant other – make it even cozier with a new blanket! Find a beautiful, comfy blanket online or from any major retailer. Wrap it up nicely as part of an at-home date night surprise package.
Chocolate-Covered Strawberries:
Who doesn't love chocolate-covered strawberries? Use pre-packaged ingredients from any store around you, or order them online! PS United usually has a tent with flowers and chocolate-covered strawberries ready to buy. Add some champagne for extra indulgence and create the ultimate romantic evening with your special someone this Valentine's Day!
Valentine's Day is about showing someone how much you care – why not do it with something special that promotes relaxation and wellness? From massage therapy to chocolate-covered strawberries, many creative gifts are available that will bring joy while helping your loved one relax and unwind!
Tagged:
massage therapy
valentine's day