The Terms we Use in the Massage Industry & Why
As an Amazon Associate, I earn from qualifying purchases.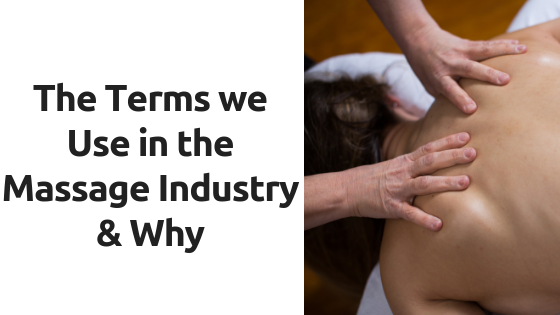 Massage therapists have worked and struggled for years to educate the public on the reality of the profession; not just about the benefits of the therapy, but also to disassociate the industry from those who use the legitimacy of the profession to hide illicit activities. Television and movies haven't helped over the years, often acting to perpetuate this unfortunate association. In an effort to combat this, there are certain terms we use as massage therapists, to maintain professionalism and separate ourselves from those not-so-professional individuals and businesses.
While we don't expect the general public to always use the correct terminology, it's important that we, as professionals do, so keep an ear out for these things when you're looking for a legitimate massage professional.
Throughout much of Europe, the terms masseuse and masseur are most often used to refer to the person performing the massage, but in most other parts of the world, including the US and Canada, those terms may have a negative connotation, so the term massage therapist is most appropriate. Depending on the area you visit, different forms of this may be used to reflect the specific licensing or certification of the profession in that region. So, you may hear things like licensed massage therapist (LMT), certified massage practitioner (CMP), or registered massage therapist (RMT). All of these let you know that the individual holds that particular title with their local licensing/certification boards or associations due to their training and capabilities.
Swedish Vs Deep Tissue(Opens in a new browser tab)
You may also notice that we call our 'work surface' a massage 'table' instead of a 'bed'. This again, is to disassociate from any unprofessional activities. The same can be said for why we often use the term 'linens' instead of 'sheets', and call our massage businesses things like a massage 'practice', 'office', 'spa', or almost anything other than 'parlor'.
Now, you may wonder if this really matters, but I'm here to tell you, absolutely! You see, the problem isn't just that some people use this industry to hide illegal and unprofessional acts, making our profession look bad, but those types of facilities are very often a hub for human trafficking. The women involved are usually not willing participants, but rather have been trafficked, sold, and forced into the work. While we want to disassociate ourselves from the act itself, it's even more important that we all fight this form of modern-day slavery.
Don't worry if you didn't know the meaning behind some of these terms before now. We know that many people outside the profession have no idea the connotation behind some of the terminology, nor the horrible things hiding behind the doors of those 'parlors'. That's why we work to educate our clients and the general public. For those of you who have never had a professional massage, there is more to a massage therapist than what you may have seen on TV. And for those who have been, thank you for supporting our industry.
Are you ready to book a massage with one of our massage therapy students? Click here or give us a call at 325.646.4272

The Top 5 Reasons you should become a Massage Therapy Student!!!(Opens in a new browser tab)
Tagged:
massage therapy
terms