Exciting News – Online Classes
As an Amazon Associate, I earn from qualifying purchases.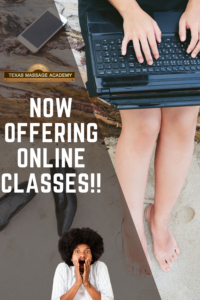 We are so excited! TDLR has finally approved our online classes!!
What does this mean for me?
This means that you can now take 46% of your classes online. You will still need to come onsite to our Brownwood, Texas campus to complete the lab portion and internship. But the classroom portion, you will be able to complete the classes at your own pace and on any device at any time. You are not stuck in Zoom meetings all day long. The lessons are all prerecorded lectures, learning activities, and projects.
This means you are saving time driving to Brownwood every day for class, which gives you more free time and more time with your family. You are saving gas money, and with the current gas prices, that is invaluable. You are saving wear and tear on your vehicle. You are saving food money since you won't need to eat out for lunch or dinner.
Can't you just learn massage from YouTube?(Opens in a new browser tab)
What is the cost?
We have set up our online program to be a pay-as-you-go program. You won't have to pay everything up front like many schools. You will just pay for each class as you take it.
The total tuition is $9000, but we are offering a 50% discount until the end of 2022. So this means your tuition is only $4500!!! Be sure when you are completing your enrollment that you ask about the discount so we can get you your coupon.
What about books and supplies?
As part of our requirements with online classes, we must ensure that the students have all of the learning materials that they need for the classes, so we require you to purchase the books from us. You will get ebooks, so you won't have to wait for shipping. It does take a couple days to get the access codes for the books sometimes. It depends upon the publisher. This ensures that you get lifetime access to the book as well as have the correct edition, so you aren't having to search and worry you bought the wrong book.
The total cost for the books comes out to $542.10 plus tax. But these are pay-as-you-go as well, so you purchase the books when you need them.
Some things that will be beneficial but not required for the online classes: are a printer to print the provided notes, or your own blank paper to take your own notes, pens or pencils, and the trail guide to the body flashcards.
For lab and internship, you will just need to provide your own sheets. In the lab, you will need 2 sets of twin-size sheets. Once you reach internship, you will want to have about 7 sets purchased.
Additional things you will want for the lab would be a small binder and something to write with; there will be a few days of notes.
Are you ready for more info or to go ahead and sign up? Give me a call at 325.646.4272 or visit our website at www.texasmassageacademy.com
Tagged:
massage education online
massage online
online classes
questions about massage school